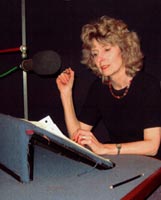 See Angela's voiceover CV »
As a leading female voiceover artist living close to Bristol, Angela Barlow draws on nearly twenty-five years' experience.
Her extensive voice-over work includes commentaries for numerous television documentaries, natural history programmes and campaigning videos.
In addition, she provides voice overs for promotional films, audio-visual packages, podcasts and educational textbooks, and has recorded hundreds of radio commercials.
On radio Angela can be heard in plays, stories and features for the BBC, and during a contract with the BBC World Service she voiced programmes teaching English as a Foreign Language.
Although she relishes all her voice work, one of her favourite assignments of all time has to be playing Matron in ITV's animation series Dr Xargle opposite the late, wonderful Willie Rushton.
Angela's many years as an actor give her a strong sense of timing, the ability to take direction quickly and the skill to nuance scripts accordingly.
"Angela is a very experienced and highly professional Voiceover Artist. Versatile and adaptable and with a natural ability to read in a wide range of styles and accents. I have no hesitation in calling on her and recommending her as a Voice Artist to my clients. Top quality."
Marvin Denning
Darkhouse Studios
Bristol
"Angela, we've had some great feedback. Your voice-over section really sets the mood to the start of the film. Our client also agreed that your introductory monologue is a vast improvement on the original cut. Thank you for being so accommodating at such short notice and we look forward to working with you again in the future."
Ben Hewish
Hewishmedia
Bristol
"I had the pleasure of working with Angela recently, recording passages for Audiobooks. This project was fraught with difficulty and had a demanding client. Angela was the most professional of all the artists used and was highly conscientious from first conversations until the final delivery. She understood immediately what was required and delivered the perfect end product with no fuss, and was overall a pleasure to work with. I would have no hesitation in making any recommendation of Angela for any type of Voice Over project, regardless of content or difficulty. "
Tim Caple
Director
MediaSport Ltd.